Have you heard about the remarkable autumn colors in Asheville, North Carolina? Experts believe that the combination of heat and cool days will lead to an excellent autumn hue season that extends into November. Leaf peepers from across the country flock to the Blue Ridge Mountains to witness the autumn's leaf changes. With six weeks of brilliantly colored leaves waving a warm welcome to visitors, Asheville, North Carolina, is one of the country's best locations for fall colors. The higher elevations begin to show autumn colors in late September and continue until mid-November in the lower valleys and around the city of Asheville.
Leaf peepers traveling to Asheville to see the foliage are also treated to some of the most vibrant colors of the season. Dogwoods, maples, and sourwoods are among the many trees that sport brilliant shades of red, rust, coral, and gold. How will this year's color progression look? Local experts predict how the season's colors will evolve annually.
Experts predict the 2022 Asheville Fall Forecast
According to Dr. Howard Neufeld, professor of plant eco-physiology at Appalachian State University and "Fall Color Guy," this year's trees are particularly lush and leafy. September is the most crucial month for determining the timing and, to some extent, the quality of our fall color display.
The following leaf factors shared by Dr. Neufeld:
Precipitation Predictions: September is forecast to have above-normal precipitation. Southern Appalachia is expected to experience below-normal precipitation during October, which should bode well for the region's fall color display.
Peak Display Days: Colors begin to turn in Asheville around October 20 -31 in a typical year, with leaves on the Blue Ridge Parkway and Mount Mitchell turning first and then working their way down each week. Elevations above 4,500′ may begin to turn as early as late September and last through the end of November.
Warm Weather Extension: It is possible that colors will be delayed a few days to a week this fall, as temperatures are expected to be warmer. This may cause the fall season to be slightly stretched and colors to start later in September and last longer into November, depending on how much above normal the temperatures reach.

What is new in Asheville in Fall 2022?
There are lots of new things to discover in Asheville when you visit during the fall season.
More restaurants and breweries are opening
.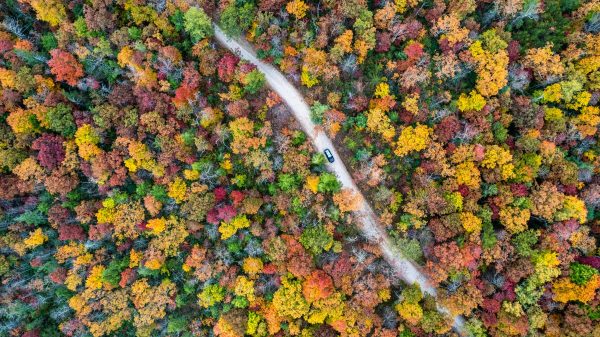 Here are some suggestions for experiencing fall in Asheville
Check your elevation. Elevations in Western North Carolina range from 1,500 to 6,684 feet at Mount Mitchell, the highest peak east of the Mississippi River. As the color change progresses from the peaks to the base of the mountains, a five- or six-week fall color show is produced. If you miss the fall color at one elevation, check the next lowest one!
Go green. Consider adding a bit of green to your Blue Ridge Mountain patchwork preservation efforts by staying eco-friendly during your fall trip to Asheville. 
Access Fall Color Reports. Make sure to sign up for Asheville's weekly fall color report to get the latest from the mountains, as well as inside info from Asheville's Fall Color Hunters team.
References and photos: Asheville's 2022 Fall Color Forecast, What's new + Travel Tips
Now is a great time to sell!  If you or someone you know is considering selling your home or land, we would be happy to offer a complimentary consultation. Call New Earth AVL Realty today and Contact Us.
If buying a home, or selling your house in 2022 is your goal, call us  today.  New Earth AVL Realty and I would be honored to connect, and Be of service to you and your family! 
Many blessings,
Jason Martini
828.515.1771 (google voice) or 530.615.9345 (direct)
PS. Who do you know that I can serve?… Who is choosing to buy, sell, or invest in real estate in AVL or Beyond? I Am grateful for your referrals! Your friends and family will thank you for connecting us!
PSS. Please feel free to comment below and let us know how you liked this blog post and what it brought up in you. And by all means… share it on your social sites too!