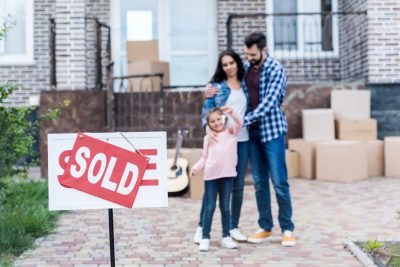 Are you searching for a new home? With real estate prices that remain high and mortgage rates that remain elevated from a year ago, you may be thinking about whether you should wait to purchase a new home.
Waiting for the perfect time to purchase a home is also often a losing strategy, just as financial advisors would warn against trying to time the stock market.
According to historical trends, home prices tend to rise over time, even as the housing market experiences short-term downturns like the one that occurred in 2008. According to data from the Federal Reserve Bank of St. Louis, the average home price in the U.S. has risen from $145,300 to $525,000 over the last 30 years. Prices rose by nearly 19% in 2021 alone.
Yes, prices are currently high and are likely to rise even more in the future. However, that might make the case for buying now rather than waiting even stronger.
Taking certain steps before purchasing a home in this hot market can put the buyer at an advantage.
Now is the time to prepare so that you can act quickly when the time is right.
Pre-Qualify With A Reliable Lender
Looking at a variety of house listings and dreaming of limitless possibilities is enjoyable, but the first step in becoming a serious home buyer is figuring out how much house you can afford.
You can use pre-qualification to find out how much money you can borrow, as well as to research and choose the right financial institution. Having done so, you can then proceed with your mortgage application.
Contact me for the list of preferred Lenders.
Build Up Your Credit Score
Now, you must concentrate on your credit score. Credit scores are a significant factor in obtaining a mortgage and selecting a loan. You generally need a credit rating of at least 620 to get a conventional loan, but the higher it is, the better the interest rate you'll receive.
It is crucial to know in advance whether there are any problems with your credit, so you don't get caught off guard if there are issues. It is also critical to monitor your credit score throughout the entire homebuying process.
Focus On Your Overall Financial Wellbeing
It's crucial to scrutinize your entire financial picture before purchasing a home. Your savings should be the starting point. You should also examine your budget to determine whether you can cover your monthly payments as well as the additional expenses that will come with home ownership, such as utilities and maintenance.
Find a Trustworthy Real Estate Agent
Choosing the correct real estate agent is among the most critical choices you will make when you want to purchase a home. Your real estate agent should be someone you're comfortable communicating with and who shares your goals, as well as buying a house (which is the goal for all real estate agents), but your priorities as a buyer are prioritized, and you obtain the best deal possible.
Local events
Here are some happenings this month and fall time for awareness:
October
LEAF Fest – 20-23 October 
– A spirited celebration of local and global community. Stages are more elaborate with headline performers and global artists. This is the fun filled weekend with activities bursting at the seams that our community has come to know and love. October 2022 will be our grand 50th Festival.
– Enjoy the best apple orchards in Hendersonville, NC, including the most popular apple orchards near Asheville for donuts, U-Pick, and mazes.
–These are great spots and can be really busy on weekends
 Through October 
–Love this one and all for great cause
-100% of all event proceeds go directly toward the various therapeutic and educational programs that fuel the advancement of Eliada kids.
November
Weaverville Art Safari – 5-6 November
– The Weaverville Art Safari is one of the original studio tours in the Asheville Area. It is a self guided free event that offers a unique look at the artist's work in their working environment, featuring artists who specialize in handmade pottery, glass, photography, sculpture, jewelry, furniture, painting, drawing, fiber art, wood art and more.
Vernardos Circus – 2-20 November
–The magical, musical, traveling Circus of your dreams.
Carolina Renaissance Festival – runs until 20 November
–Time travel to the greatest party since Camelot! Enjoy an outdoor autumn stroll through the Village of Fairhaven where history comes alive with non-stop, day-long, immersive and interactive entertainments! The open air Artisan Market is filled with arts and crafts, games and rides, jousting knights on horseback, falconry, mermaids, fairies, dragons, feasting and so much more!
Gingerbread Competition @ Grove Park Inn starts 21 Nov – epic holiday vibes
–The 30th Annual National Gingerbread House Competition will be held in November 2022. Gingerbread enthusiasts are encouraged to begin dreaming up dazzling designs for their confectionary creations.
–Parking fees benefit local charities
Polar Express Train Ride – Bryson City
–THE POLAR EXPRESS™ with the Great Smoky Mountains Railroad is back in 2022! The 1¼ hour round-trip passenger excursion comes to life as the train departs the Bryson City depot for a journey through the quiet wilderness for a special visit at the North Pole. Set to the sounds of the motion picture soundtrack, guests on board will enjoy warm cocoa and a treat while listening and reading along with the magical story. Children's faces show the magic of the season when the train arrives at the North Pole to find Santa Claus waiting. Santa will board THE POLAR EXPRESS™, greeting each child and presenting them with a special gift as in the story, their own silver sleigh bell!
-This is a commitment, though I hear it is an epic time – and Bryson City is an adorable mountain town
NC Zoo – about 3 hrs from here, east of CLT
–Being the world's largest natural habitat zoo means the animals here have plenty of room to roam.
-Animals in their natural habitat so they have room to roam.
-Also have an educational Zoo adventure game to engage the youngins
-They honor reciprocal zoo memberships, so if you have Nature Center pass the admission is free.
 – East of CLT 
–We went a couple weeks ago, wild cats and animals are mostly rescues and amazing how close we could get.
-It's the old metro zoo, they bought and turned into a sanctuary,
-Tight quarters for these large cats, though trust they are doing best they can
-Great mini golf course attached to eat with free-range peacocks, ducks, and geese throughout with a small lake on premises.
-Had an amazing sloth encounter for free, which goes to their efforts
Just thought I would share some ideas.. and hopefully we can connect at some of these events!
Now is a great time to sell!  If you or someone you know is considering selling your home or land, we would be happy to offer a complimentary consultation. Call New Earth AVL Realty today and Contact Us.
If buying a home, or selling your house in 2022 is your goal, call us  today.  New Earth AVL Realty and I would be honored to connect, and Be of service to you and your family! 
Many blessings,
Jason Martini
828.515.1771 (google voice) or 530.615.9345 (direct)
PS. Who do you know that I can serve?… Who is choosing to buy, sell, or invest in real estate in AVL or Beyond? I Am grateful for your referrals! Your friends and family will thank you for connecting us!
PSS. Please feel free to comment below and let us know how you liked this blog post and what it brought up in you. And by all means… share it on your social sites too!